the roast chicken of your dreams
One thing I am known for amongst my tribe is my famous roast chicken.
I have tried endless methods, stuffings, sauces, techniques, and temperatures. You name it; I've tried it. After years and hundreds of chickens this is my go-to recipe for a classic roast chicken that's perfect every time.
ingredients
1 whole organic or free range chicken
1 stick of butter
1 head of garlic
1 pint of cherry tomatoes (on or off the vine)
10 sprigs of thyme
kosher salt 
1 lemon 
parsley for garnish 
step 1
Preheat oven to 425℉
Grab that bird and sprinkle inside a 1 teaspoon of kosher salt, stuff her with a whole head of garlic, half of the lemon, and 10 sprigs of thyme.
NOTE: This doesn't have to be exact—use more lemon if you prefer, rosemary if you have it, and skip the garlic if it doesn't agree with you! Use what you like or have on hand. 
step 2
I use my lodge cast iron pan for the roast.
Put your chicken in it breast side down. Pat it completely dry and sprinkle with some kosher salt.
I use the convection feature on my oven, placing my chicken on the middle rack with the chicken thighs pointed towards the back corner. The legs take longer to cook so I find this placement optimal for cooking times and tenderness.
The breast-side-down trick will give you the crispy back skin, while the breasts stay super tender and juicy. Give it a go!
step 3
After about 1 hr and 10 min at 425℉ on convection roast, pull out the chicken and add 1 stick of butter and the pint of cherry tomatoes to the pan.
Roast for an additional 10-15 minutes.
The cherry tomatoes will start to burst and the butter melts mixing with the chicken juices creating a seriously yummy sauce. 
Total cook time is 1 hr and 20-25 min to get my chicken to 165℉.
Check your chicken temp in the thickest part of the bird to make sure its fully cooked before pulling out to eat.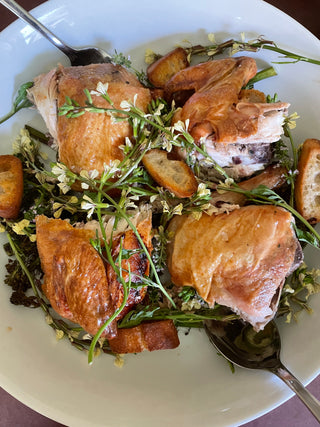 step 4
Take the chicken out of the pan and let it rest on your cutting board for 5-10 minutes to let the juices settle and not leak out.
Cut the chicken down the backbone and then across into 4 equal pieces. Every piece has either a wing or a leg that way and you can choose if you like dark or white meat. 
Pour the sauce with the tomatoes into a serving dish and place the 4 cut chicken pieces on top. In the empty pan, I like to toast fresh bread into croutons or sliced baguette toasts and place those around the chicken to sop up the juices.  
Top with Maldon salt and freshly torn parsley. Decorate the sides with sliced lemon and parsley sprigs. 
Reserve the sauce on the side for people to drizzle on top of their plate as well.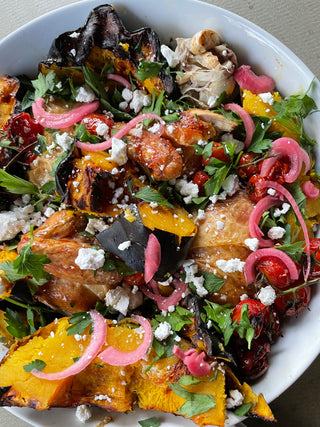 complete the meal
I often roast veggies alongside my chicken on a sheet pan and add it to the serving dish.
Squash, broccolini, sautéed kale, fingerling potatoes, and farro are all great additions. Or make a warm salad with squash, pickled red onion, herbs, and a soft cheese.
Bon appetit! Tag @thehommarket and show us your amazing chickens! 
Britt 
more notes from hōm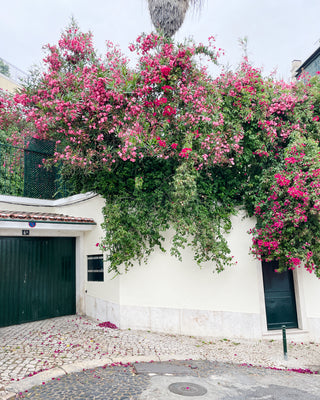 What a delicious feast for all the senses! We ate seafood like queens, stayed in the cutest hotel, and went to the best shops! Portugal is known for their pottery and textiles and did not disappoi... more