Q+A with hangai mountain textiles
I fell in love with Hangai Mountain Textiles when we met at Shoppe Object, a trade show in Manhattan.
They are a family-owned and run business with a showroom in Basalt, Colorado and a presence in Mongolia where they have lived and worked for more than a decade.
Their collection features yak down, baby camel and cashmere throws and accessories. All incredibly soft, sustainably-made, and of the highest quality.
After working with them over this past year we wanted to learn more about the people and process behind the brand.
Below, our interview with Betina Infante, owner of Hangai Mountain Textiles with her husband, Bill.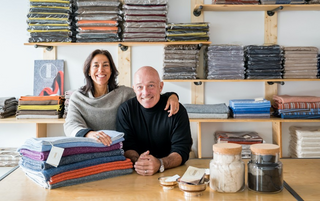 meet betina infante
What kind of kid were you? How'd you spend your days?

Adventurous, curious and always on the move… In my younger days, I spent many summer days playing in the woods bordering our house in Virginia. My brother and cousins and I would sway off rope swings and plunge into the river; we would build tree forts and run through the night catching fireflies in jar to light up our rooms. Those were the days when summer never ended.
My dad owned a small gallery/frame shop in Bethesda, MD, and I spent a great deal of time learning how to frame and just passing the time learning from him after ballet lessons.
Although my mother and father met in D.C. and spent most of their lives working in The World Bank and Inter-American Development Bank, they are from Argentina and Brazil, so growing up life was very colorful and filled with Brazilian and Argentine culture, and with stories of family as well as great grandparents that had immigrated from Spain and Italy to South America.
It was exciting to visit family in South America every two years, and I was eager to explore other countries. So, I convinced my parents to send me to boarding school in Europe. That was a turning point in my life.
Living with so many diverse students from different cultures was inspiring and encouraging. I knew then I would continue to travel, understand different cultures, and explore the world.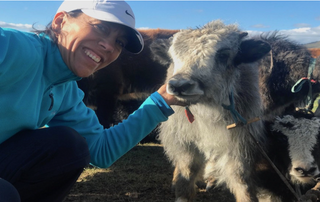 When did you know you had to create for a living? What was that realization moment like for you?
I grew up with a very creative father whose artistic influence shaped everything from the interior décor and architectural style of our home to how I viewed art and artistic expression.
Your earliest memory that led you to be a maker: 
My father's daily artistic influence, DIY approach, and intellectual encouragement compelled me to be creative; while my mother's practicality is likely why I went into business.
I'll never forget the year that my father decided we would not have a "real" Christmas tree, and that we would have to make one from scratch. Together we created an extraordinary cone-shaped tree from hand-strung popcorn threads and lights. It was perfect.
I'm not sure that has anything to do with why we have a textiles business today, but it certainly taught me to transform change into opportunity.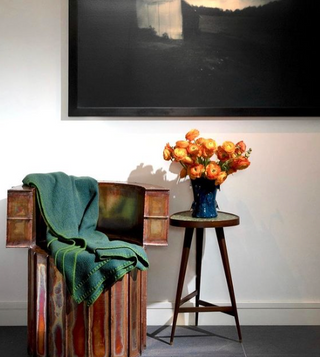 Where do you feel most connected with yourself? What is it about that place? 
I spent most of my life moving from country to country, working in development and business, so my profound sense of place is with my family. They are my foundation and encourage me to thrive.
Beyond that… Brazil is a place that moves me. Perhaps it's the force of its people, their sensibility and culture; I am obsessed with bossa nova and the poetry that permeates so many aspects of Brazilian culture.
In my every day, I feel connected with mountains, hiking and skiing among the giants, that give me perspective and the space to reflect.
What is it about working with textiles that speaks to you?
It's fascinating to be part of a complex, family-to-family process that transforms simple raw materials into fabulously luxurious products that comfort and add joy to peoples' lives.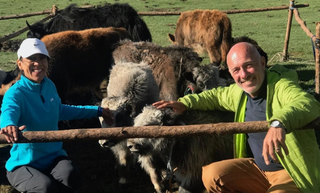 Describe your process and philosophy:
Our process begins with a herder family in Mongolia hand-combing the natural fibers from a cashmere goat or a majestic yak. The fiber is then purchased by the knitting and weaving families with whom we partner.
All of our collections are produced by Mongolian-owned firms (all of which happen to be family-owned) so that our supply chain partners benefit most from partnering with us.
We intentionally knit and weave all of Hangai's products in Mongolia, because we believe that this is the most sincere expression of commitment to the families that produce our collections, and to Mongolia itself. It ensures that our production benefits the Mongolian value chain from start to finish.
We are not interested in mass-producing Hangai. We are interested in producing small volumes of high-quality, luxuriously knit blankets, throws, and home accessories, and in developing a business with purpose and soul.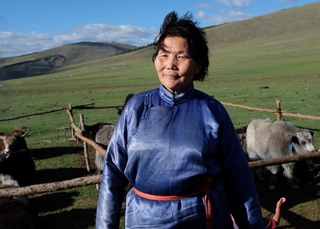 Creativity is...
Transforming an idea into something real, something useful, something that feeds your soul.

What's the hardest part of producing blankets—what does it force you to reckon with?
Beyond supply chain challenges, it's challenging to continuously design collections that others will also appreciate.
I find myself thinking about what colors, patterns, textures will evoke a response from people in different environments, such as cities, mountains, coastal areas, and often consult with our current clients for inspiration.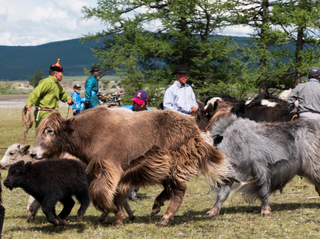 The times you feel most like yourself... 
Adventuring in the outdoors, discovering new places and cultures, sharing fabulous food with family and friends, and dancing.
When do you feel most inspired?
Experiencing the power of creators, innovators and artists. I'm mesmerized by the profound talent that some people possess, and how creativity can evoke emotion, encourage change and inspire action.
It inspires me to walk through the Resnick Center for Herbert Bayer Studies in Aspen and appreciate the epic influence of the Bauhaus movement on art, architecture, textiles and intellect.
It inspires me to listen to the poetry and sensibility of a Bossa Nova song.
It inspires me to see creativity bloom against all odds, like in the case of Dragana Ognjenovic, a Serbian fashion designer that produces intensely elegant, minimalist, unique clothing and homewares, despite the difficulties of everyday life in Serbia.
An artist or maker you're crushing on right now:
Issey Miyake
What is it about their work that speaks to you in this moment?
It's minimalist, wearable art! I admire Miyake's stunning simplicity…and it's incredibly challenging to create.
What restaurant do you wish you could visit right now and with whom? 
The Hokkaido Japanese restaurant in Tokyo with Bill Infante.
Three songs you put on while working: 
Desafinado by Joao Gilberto
Aguas de Marco by Elis Regina
Chega de Saudade by Carlos Jobim
Your all-time favorite cocktail. Where did you first have it? Set the scene:
Smokey Hibiscus Mezcalita, which I had this April 2022 at Paradero Hotel in Mexico.
The Paradero is known for its "Brutalist" architecture. The bar is located in the hotel's open-air dessert courtyard flanked by walls of raw concrete structures – the rooms - that blend into the dessert scape with all its
native plants.
The bartender educated us on the beauty and history of Mezcal.
Best hotel stay EVER?
Santa Caterina in Amalfi with its glorious, cascading lemon gardens and epic view of the Mediterranean Sea.
Where are you going on your next holiday?
The Pyrenees Mountain in Northern Spain, San Sebastian, Bilbao and Asturias!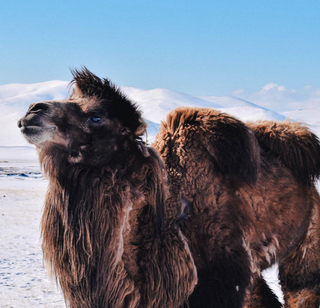 How does "place" influence your work?
Epic ideas often stem from the experiences and the community of your "place."
For example, on a cool August evening, we sat outside with friends gazing at the stars and outline of Mount Sopris. I pulled out our Mongolian blankets to keep everyone warm as the temperatures dropped.
The next day the blankets became the conversation piece that inspired Bill, my husband, and I to explore what it would take to develop an international home textile brand that could showcased the best of Mongolia's hand-combed cashmere, yak, and baby camel fiber.
After many conversations with Mongolian friends, research on fiber harvest and processing, textile design and production, and supply chain logistics, we took the leap and conceived a brand committed to distinguishing and promoting Mongolia's herding, knitting, and weaving traditions: Hangai Mountain Textiles. 
Thank you, Betina and Bill! 
more notes from hōm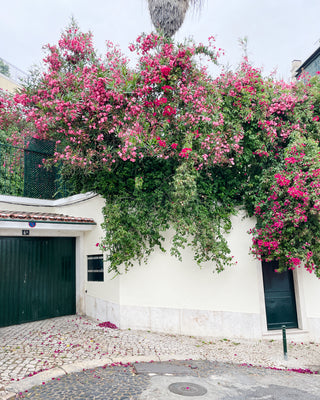 What a delicious feast for all the senses! We ate seafood like queens, stayed in the cutest hotel, and went to the best shops! Portugal is known for their pottery and textiles and did not disappoi... more