artisans, towns & guides
Our trip to Oaxaca would not have gone so smoothly if we didn't book our guided tours to help us navigate where we needed to go and which artisans we needed to meet with. Below you will find a list of towns, tour guides, and artisans that we visited and loved.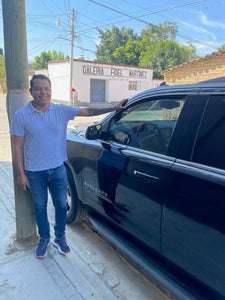 transportation & tour guides
I would not feel comfortable driving in Oaxaca and having Edmundo pick us up at our hotel in his huge Suburban and drive us around, helping us translate, and deciding which artists we should meet made the whole trip seamless! 
shenic tours oaxaca
This is the service we used while in Oaxaca. Their rates are as follows for 1-3 people:
Transportation Only
$400 pesos per hour (minimum 3 hours)
$3,000 pesos per day (8-9 hours) 
Transportation and Tour Guide
$500 pesos per hour (minimum 3 hours)
$4,000 per day (8-9 hours) 
Transportation to Hierve el Agua
$3,000 (5-6 hours travel time)
*All prices are in Mexican pesos.
*All options are private services.
"Transportation only" is a good option if you have already planned the places you want to visit, but only have a slight idea of the places you are going to visit and want recommendations or some information about the areas during the tour. The option with the tour guide is much better.
Explore Shenic Tours Oaxaca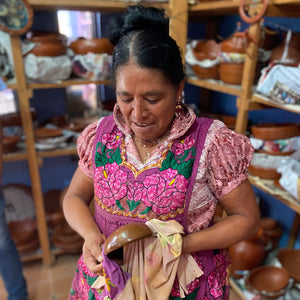 towns & artisans
We visited workshops and met local craftspeople in the area thanks to the help of our guide.
the women of the red clay
In the small Zapotec village of San Marcos Tlapazola, about 30 minutes outside of Oaxaca, is a group of women who have been making pottery out of red clay for the past 20 generations.
Macrina is the mastermind and known around the world for her incredible red clay work, she has been featured in Vogue, and has work in the MET! The women hike together to gather the clay from the surrounding mountains, which gives its classic red clay look, using their hands (not a wheel) and simple hand tools such as pieces of leather and then a quartz rock to polish.
It was the highlight of our trip and you would be missing out not to go here! Thank you Macrina for your wonderful hospitality!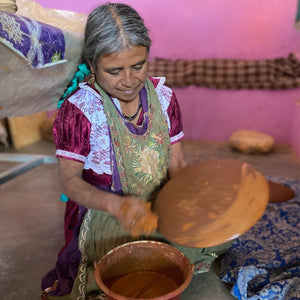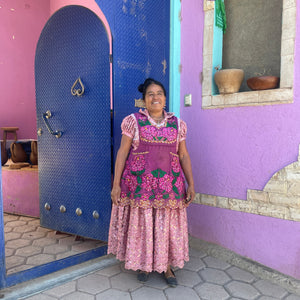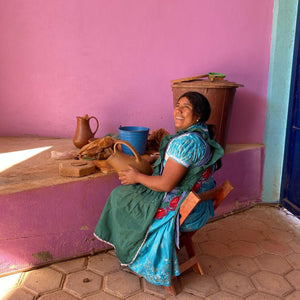 velas san pascual
We then left to go to the town of Teotitlán del Valle to meet the beeswax candle makers Velas San Pascual.
It took us about  30 minutes from San Marcos Tlapazola by car and is about 40 minutes from Oaxaca city central. They are a family run beeswax candle workshop, Velas San Pascual was founded in 2011 and are the third generation in their family to continue this tradition. All of their candles are hand poured, using clay and wooden molds to create decorative flowers, fruits, and birds, some of which have been in use for 50 to 60 years. These candles are still used today in the region to celebrate marriage proposals and saints feast days. Their candles are made with locally harvested beeswax, natural dyes, and are completely handmade.
We loved seeing their work!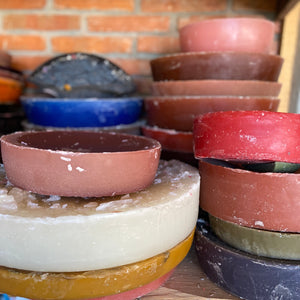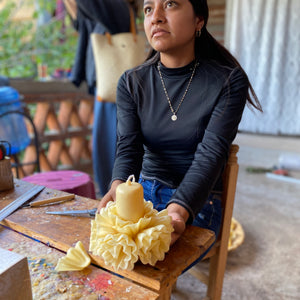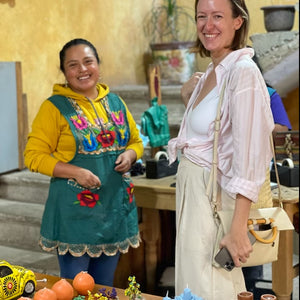 black clay oaxacan pottery
Located 30 minutes outside of Oaxaca the black clay, better known as Barro Negro, comes from the town of San Bartolo Coyotepec in Oaxaca. It is one of the most popular and influential arts of the Oaxacan region. Also, the history of Barro Negro dates back to the Monte Alban period of the region almost 2500 years ago.
These exquisite pieces, which are only made in this region of Oaxaca, receive their beautiful black finish through the process of polishing the surface with a quartz stone.
We went to meet with a few of the makers in this town and it's a definite must see if you are a pottery lover when you go to Oaxaca!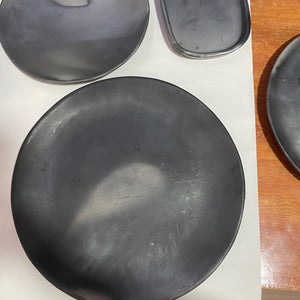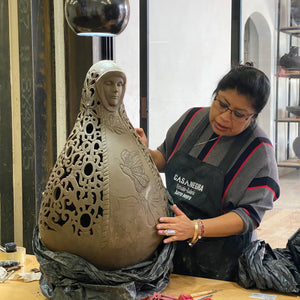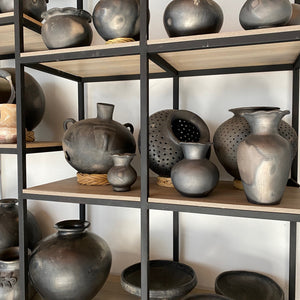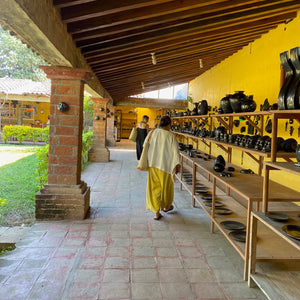 wood carvers
Alebrijes (ah-leh-bree-hess) are creatures carved out of wood and painted with Zapotec patterns and fantastic designs from the artist's own imagination.
These colorful one-of-a-kind carvings are handmade using wood of the copal tree which is grown in the surrounding fields of the towns and is considered a sacred tree which only grows in the region of Oaxaca. This wood is sustainably sourced from the branches of the tree in order to preserve the life of the tree and ensure a continued source of wood for the future.
Alebrijes are traditionally made in Oaxaca in the towns of San Martin Tilcajete as well as San Antonio Arrazola.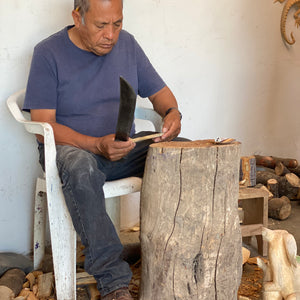 more to explore
Hierve el Agua is about 2 hours away from Oaxaca city center and is known for its stunning mountain views. On the way back from Hierve el Agua you can find Matatlan which is where many mezcal factories are located. On that same route, there is El Tule Tree—a great place to chill out and grab a quick snack. 
There you can go to Toetitlan where you can find wax candles and weavings, and then go to Tlapazola, which is famous for its red clay pottery. Packing all of these places in one day would take about 7-8 hours.
We had the best time in Oaxaca, everyone was so welcoming, the food was out of this world, and we managed to get by without knowing Spanish thanks to Edmundo.
I hope you get to enjoy Oaxaca, too!
Britt
more notes from hōm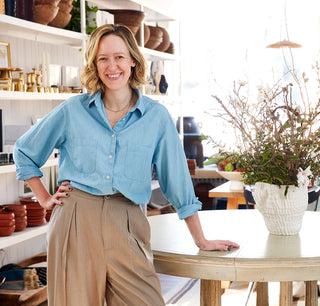 We're proud to support nonprofits and organizations that make a positive impact here in the Rivertowns. We donated over $4,500 to local and national organizations in 2023, listed blow. We look forw... more